Updated April 28th, 2022:
$MNTL airdrop for Osmosiszone LPs are now available to claim:
https://airdrop.assetmantle.one
Updated: March 15th, 2022
Source: MantleDrop: Stakedrop 101 and recent tweets:
StakeDrop is a token distribution mechanism that allows stakers of some of the most prominent Proof-of-Stake networks to get exposure to $MNTL tokens (AssetMantle tokens).
Eligible network participants can stake for 7 days from the start date and will start on (12:00 PM UTC):
@cosmos: March 15th
@PersistenceOne: March 18th
@terra_money: March 22nd
@ComdexOfficial: March 25th
@junoswapdex: March 29th
@StargazeZone: April 1st
9,000,000 $MNTL tokens will be distributed to participants of Stakedrop across all the six different chains.
To participate in the campaign, users will need to stake their tokes with any active validator and send a magic transaction to the designated wallet address.
All on-chain staking wallets are eligible.
Step 1: Stake
Stake tokens(or remain staked) with any active validator on an ongoing StakeDrop campaign chain
Step 2: Send Magic Transaction
Send a transaction with the smallest amount of native chain token to the designated StakeDrop wallet address
Step 3: Confirm Participation
Enter the staked wallet address on the StakeDrop campaign dashboard to confirm your participation
Step 4: Claim Tokens
Answer daily quiz on the StakeDrop campaign dashboard to claim $MNTL tokens
MantleDrop vesting schedule:
Liquidity Pools: Immediately Available
StakeDrop: 6 months locked followed by 6 months linear vesting
Mantle Creators: Immediately Available
OpenSea Users: 1 month locked followed by 3 months linear vesting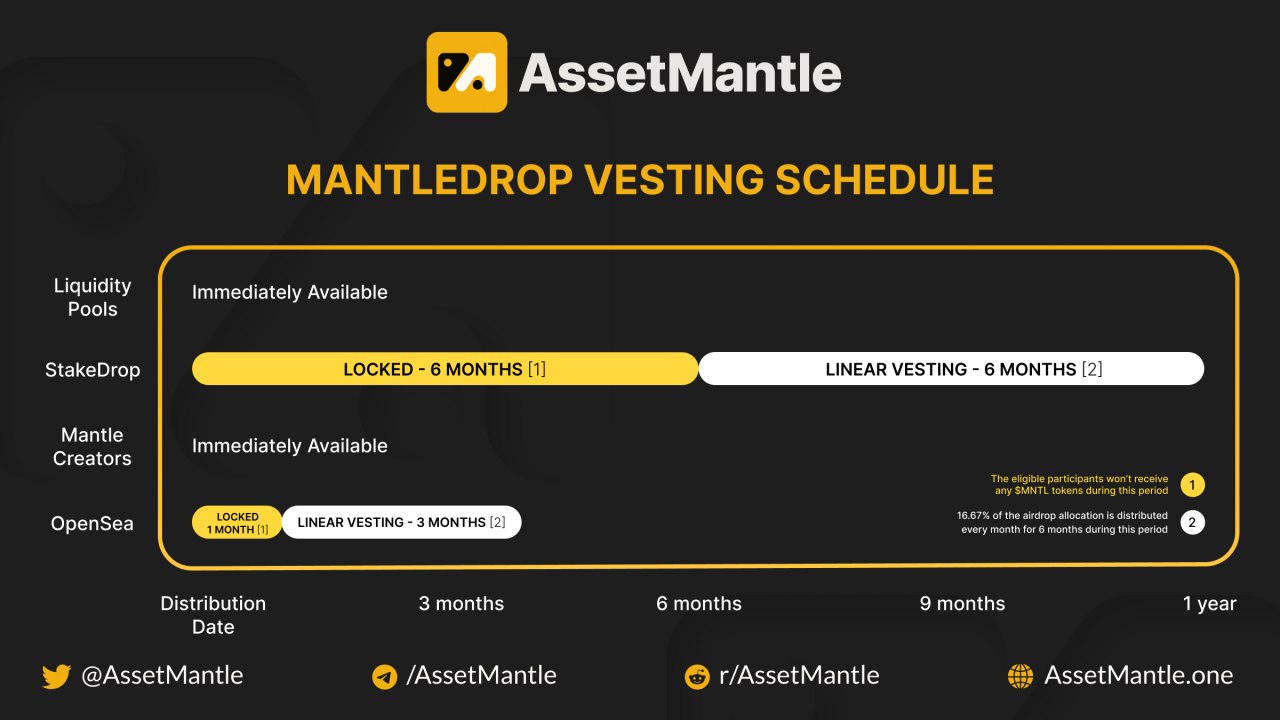 Original post from March 8th, 2022
The $MNTL token will govern & can be staked for MantleChain security. It supports the MantlePlace transactions: minting, trading, royalties, & fees. The token will help bootstrap genesis creators, provide liquidity & enable retroactive rewards & airdrop
54% of the initial circulating supply will be airdropped to the community. 6 #CosmosEcosystem chains will receive airdrop, with $CMDX already confirmed.
Source tweet: