Updated: May 25th, 2022:
Snapshot: April 28th, 2022
Size: 202,500 $SGNL
Eligibility: $JUNO $ATOM $OSMO $SCRT staked with a Validator that is _CONFIRMED_ IBC relayer as of April 28th. (picture below)
Airdrop Checker: Mid-June
Distribution: 2 - 3 stages unlocked when community solves puzzles
"We wished to highlight the essential role of IBC relayers with our airdrop. There are many ways validators can contribute to the ecosystem and we aren't saying these are the only good ones. We have no association with any of them."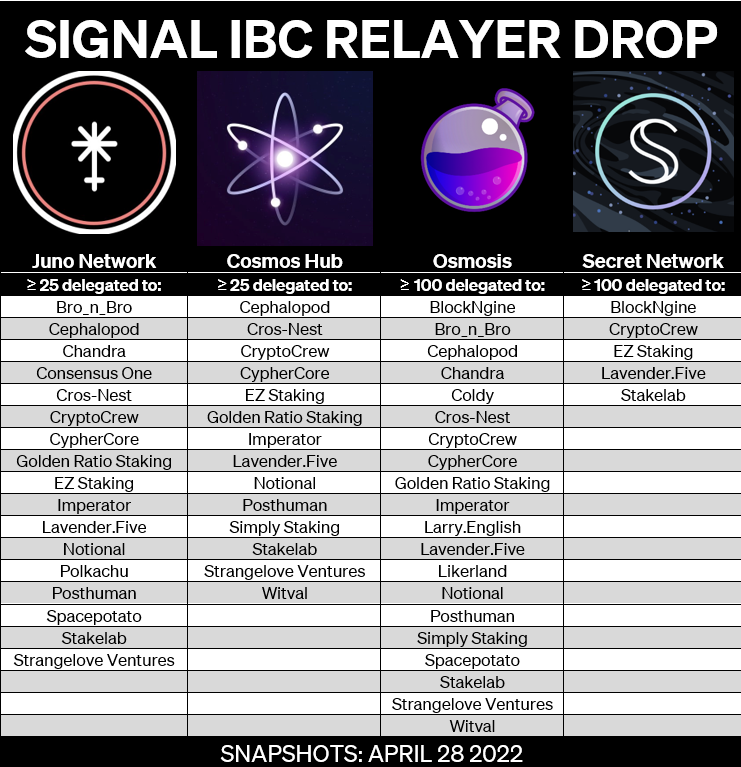 Updated: May 2nd, 2022:
- 202500 SGNL (15% of supply) will be airdropped to eligible addresses
- $ATOM, $OSMO, $JUNO, and $SCRT
Eligibility requires an address meet two conditions:
- Delegate to a validator providing IBC relayer services at the time of the April 28 snapshot
- Meet minimum staking requirements on an eligible validator (25 $JUNO 25 $ATOM 100 $OSMO 100 $SCRT)
Also:
- Split delegations across eligible validators are allowed
- Osmosis Superfluid staking is not counted
- List of validators linked below
- Snapshots taken on April 28th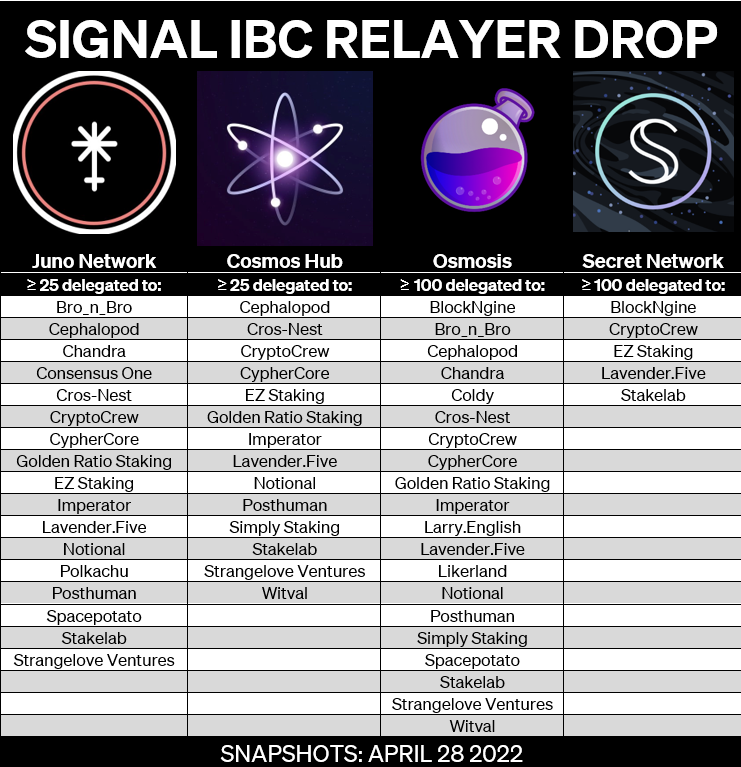 Source: The Signal IBC Relayer Drop
Updated: April 29th, 2022
Snapshot taken
$ATOM $OSMO $JUNO and $SCRT delegators to specific validators (below)
Staking requirement:

$ATOM: 25
$OSMO: 100
$JUNO: 25
$SCRT: 100
Our #airdrop will be an #ibc #relayer drop across $atom $osmo $juno and $scrt - to be eligible you must delegate to a validator that runs an IBC relayer on one of those chains.
We are not affiliated with any validators but we wanted to take the opportunity to highlight the important role of IBC relayers with this airdrop.