- $ATOM (Keplr) delegators and $SRCX holders (Metamask, Trust Wallet or Binance Smart Chain Wallet)
- Whale capped (see below)
- Q4 2022
- Multiple snapshots, dates will not be revealed
The amount of $SOURCE claimable will be determined by the combined average wallet weight of a holder's staked ATOM balance and SRCX balances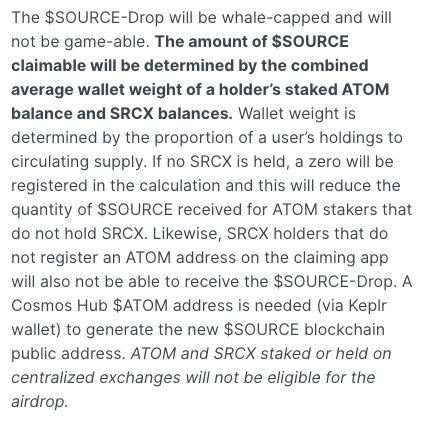 Testnet is out and can be utilized to deploy nodes / test smart contracts / dApps. Likely to be incentivized, more info to be released soon.
Source: Airdrop - A Community-Driven Fair Airdrop of $SOURCE to Cosmos Hub and Source Token Supporters
A Community-Driven Fair Airdrop of $SOURCE to Cosmos Hub and Source Token Supporters
The $SOURCE-Drop has been carefully designed to provide maximum benefit to community members that hold Source Token $SRCX (Source Protocol's Automated DeFi market rewards token, BEP-20) and stake Cosmos Hub $ATOM. $SRCX should be held in Metamask, Trust Wallet or Binance Smart Chain Wallet, and $ATOM should be staked to a trusted validator via Keplr Wallet. Registering both wallets in $SOURCE's Web 3.0 app via wallet connect will be required in order to participate.
The $SOURCE-Drop will be whale-capped and will not be game-able. The amount of $SOURCE claimable will be determined by the combined average wallet weight of a holder's staked ATOM balance and SRCX balances. Wallet weight is determined by the proportion of a user's holdings to circulating supply. If no SRCX is held, a zero will be registered in the calculation and this will reduce the quantity of $SOURCE received for ATOM stakers that do not hold SRCX. Likewise, SRCX holders that do not register an ATOM address on the claiming app will also not be able to receive the $SOURCE-Drop. A Cosmos Hub $ATOM address is needed (via Keplr wallet) to generate the new $SOURCE blockchain public address. ATOM and SRCX staked or held on centralized exchanges will not be eligible for the airdrop.
Contributors and participants to the $SOURCE testnet (now public) will be eligible to receive bonus $SOURCE-drop from active participation such as creating a wallet, setting up a validator node on $SOURCE testnet, launching a smart contract, and more. Additional contributions and active participation by community members will also be rewarded.